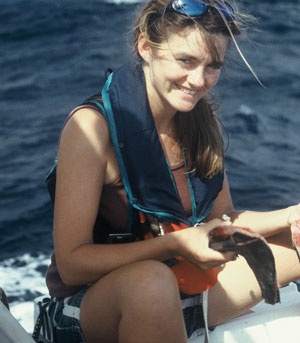 Charlotte Caffrey sailing across
the Indian Ocean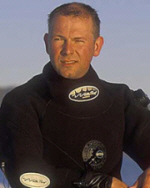 Goren Ehlme, BBC Wildlife Photographer of the Year 2006, is one of the leaders on our Antarctic and Arctic Photography & Diving Expeditions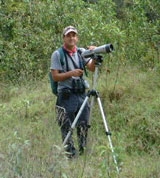 William Perez is one of Ecuador's
leading birding guides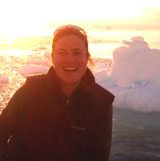 Chloë Burnett - Wilderness & Wildlife Travel Consultant, seen here sailing in Antarctica. Chloë has also spent time sailing in South Georgia and travelled extensively in South America.
Aqua-Firma was born out of a passion for exploring and conserving the best of our planet's wildlife and wilderness, particularly where land and water meet. Our mission is to provide you with opportunities to discover the best of these locations in ways that are invigorating, enlightening and responsible. In many locations we are also able to give you unique behind the scenes insights into the conservation and research of wildlife and wilderness habitats.
Our experiences have been created with the help of biologists, marine and environmental scientists, professional sailors and divers, photographers, conservationists, researchers and leading naturalist guides. All of these people have a passion to communicate the environments they know best.
Most of our experiences are designed to be tailor made to suit individual preferences for activities, types of wildlife, level of comfort, budget and the degree of adventure and learning. We like to provide appropriate comfort wherever we can and even when in remote locations it is often possible to be aboard a fantastic yacht or in a comfortable lodge. Other times the going is more challenging such as our Amazon rafting expeditions which require tented shore side camping and the only contact with the outside world by means of a satellite phone. It is our job to get you there and help you and your travelling companions create your own personal brand of adventure.
Responsible Travel
Conservation of the places we visit is a priority for us and our first objective is to minimise any potential impact your visit with us may have. More than that, through the experiences we offer you can make an active positive contribution towards the conservation of some of the world's most important and endangered wildlife and wilderness areas.
For many of our experiences we run a Matching Conservation programme by which we will match up to £25 that you donate per booking to a charity that we feel is making measurable achievements in conservation. This normally results in providing you with membership of these organisations who will keep you informed directly of their project work. On our Conservation in Action trips the contribution we make is considerably higher than this, and some of these are designed so that you can actively participate in a research and conservation project.
For more details please refer to our Responsible Travel section.
The Directors of Aqua-Firma:

Charlotte Caffrey, MSc, FRGS
Charlotte is a Marine Scientist who began her career as a Hydrographic Surveyor charting the North Sea. She is a commercially qualified (HSE) Scientific Diver, PADI Scuba Instructor and holds an RYA Yachtmaster certificate.
Charlotte's Masters thesis was in monitoring one of the first attempts to transplant a coral reef ecosystem in Singapore. This marked the beginning of a passion for coral reef ecology which evolved into her role as the Global Reef Check representative in Indonesia's Riau Islands. Her career as an environmental consultant has spanned Asia, the Middle East and Europe.
In September, Charlotte will be leadiing an Arctic Wildlfie & Marine Life Sailing Voyage. In October, she will once again be leading our whale shark tagging programme in the Seychelles. 2012 will include an Antarctica Wildlife, Marine Life and Diving Voyage across the Anatrctic Polar Circle; and in 2013 plans are already in place for a Marine Life Insights diving voyage to the World's most diverse coral reefs at Indonesia's Raja Ampat.
Ralph Pannell, FRGS
Between 2000 - 2005, Ralph spearheaded conservation initiatives and raised funds for Rainforest Concern and the Endangered Wildlife Trust. His fascination for wilderness and wildlife began at eighteen when he joined an Operation Raleigh expedition. Two years later he led a primate research expedition to the Ecuadorian Amazon; and in Uganda he led a recce for the Links 2000 project that led to the building of a school library in a village near the Queen Elizabeth National Park.
During a business career in East Asia, Ralph helped to fund and create the Project Asiatic series of cave and wreck diving expeditions in Malaysia and the South China Sea. At the same time he became a NAUI diving instructor and developed a love of sailing that led to his qualification as an RYA Yachtmaster (Offshore).
Ralph remains a special advisor for Rainforest Concern.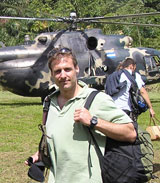 Ralph Pannell in the Indio-
Maiz Biosphere Reserve,
Nicaragua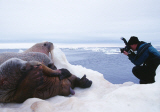 National Geographic cameraman and World Press Awards winner, Paul Nicklen, was one of our leaders for this year's Arctic Photography & Diving Expedition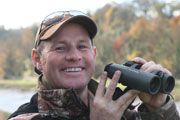 Mike Dilger - BBC TV and Radio Presenter, Writer & Naturalist is leading trips to Costa Rica, Galapagos & Ecuador

Irshad Mobarak of the
Malaysian Nature Society and
our expert naturalist in
northern Malaysia, is a
leading force in conservation
in Malaysia.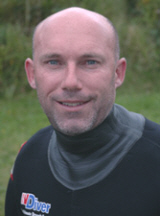 Andy Davies, Environmental Consultant & Professional Photographer, is one of our leaders to Seychelles for our Whale Shark Research & Conservation experience