Mozambique is home to some of East Africa's most pristine islands and offshore waters and it is undoubtedly one of the best places on the planet to find see manta rays and whale sharks. It's idyllic offshore islands provide some of the best coral reef snorkelling and diving to be found in Africa, not to mention some of the country's best beaches along a coastline which stretches for 2,470 kilometres.
Safaris in Mozambique are a re-emerging phenomenon, ideal for someone seeking areas well off the beaten track and in a process of rehabilitation. Access to Mozambique is most convenient via South Africa and Tanzania, so the safari assets of these countries should also be taken into consideration for a visit. Within Mozambique itself, two areas of particular interest are Gorongosa and the Great Limpopo Trans-Frontier National Park.
Gorongosa
Gorongosa is a 3,770 square kilometre park lying at the southern end of the Great Rift Valley in the heart of Mozambique. Seasonal flooding of the main valley of the park creates a myriad of distinct ecosystems. Several species are endemic and in the early 1970's it contained some of the densest populations of wildlife in Africa. The civil war had a significant impact, but over the past few years there has been a major rehabilitation project involving reforestation of certain areas and the reintroduction of species such as buffalo. Between 2007 - 2010 large wildlife numbers increased by 39%.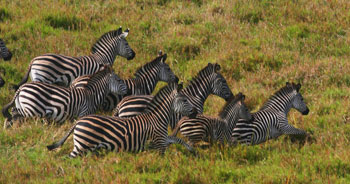 Great Limpopo Trans-Frontier National Park
When we first flew from South Africa to Mozambique from the Kruger National Park, the border drew a clear line between healthy bush on the Kruger side with cleared areas on the Mozambique side. With the creation of the 35,000 km2 Great Limpopo Trans-Frontier National Park, wildlife is now free to roam across countries whilst the ecosystem on the Mozambique start recovers.
Manta Ray Research & Conservation
Our first interest in Mozambique is to help fund and participate in the research and conservation of Manta Rays. In April and November of 2012 we will be running our Manta Rays Research & Conservation experiences. Divers can to join an Aqua-Firma team which will include the 'Queen of the Mantas', Dr Andrea Marshall, on her home patch of water on daily manta ray research dives. In between dives, we will scan the sea for whale sharks and if we locate them, snorkel alongside them. Click HERE for details.
Quirimbas Archipelago
The islands of the Quirimbas Archipelago in the far north of Mozambique offer what many consider as the best coral reefs in Africa and some absolutely idyllic islands settings. Vamizi and Ibo are two of the most famous of these. Vamizi is an idyllic and private island, whilst Ibo is a mini Zanzibar with a rich cultural heritage and historic colonial buildings.
The Quirimbas provides a stunning snorkelling and diving location; whilst one of our combinations of sea kayaking and sailing by dhow between the islands is one of the ultimates in coral island adventures.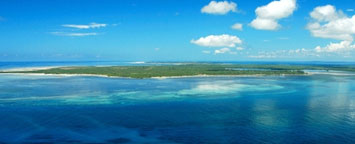 How to get to Mozambique
The Quirimbas can be combined with coastal and wildlife safaris further south, but is most easily approached with flights from Dar es Salaam in Tanzania. Please Contact Us or click HERE for details about our wildlife and marine life safaris to Tanzania.
For the rest of Mozambique, South Africa is the ideal transit point, a country which itself offers an incredible amount that we can combine with a visit to Mozambique. Southern right whales, coral reefs and ragged tooth sharks of Aliwal Shoals, all combine famously with safaris in the Kruger and the winelands of Stellenbosch. Please Contact Us for details.
South Africa Safari and holidays - Kruger National Park - Sodwana Bay - Vamizi Island - Hluhluwe - Mkuzi - Johannesburg - Durban Natal Province - Stellenbosch & Cape Town - Great White Sharks - Titsikama - Botswana - Pemba Tanzania - Kenya Airways