Tel 0844 412 0848
Intl +44 1428 620012
Arctic Sailing Voyages

Aug & Sept, 2014. (16 days £3,690 / €4,290)


Jun - Sept, 2014
(11 days £2,490 / €2,870)
(12 days from £2,690)


Sept & Oct 2014 from £1,590 / €1,840


5 - 17 Sept, 2013 £2,560
with Aqua-Firma Marine Scientist, Charlotte Caffrey
4 - 14 Sept, 2014 £2,490


25 Sept - 3 Oct, 2014 from £1,990
with onboard professional photographer


Ice Ship Voyages

May & Jun, 2014
(10 days from £1,170)


( 13 days from £3,699)
(23 Aug - 4 Sept with Aqua-Firma Above & Below Water Photographer)


Jul & Aug, 2014
(10 days from £2,990 / €3,480)


(10 days from £2,990 / €3,480)
July 2014, with birding expert & former RSPB Director (NI) Robert Brown O.B.E.


June and Aug 2014
(8 days from £2,350 / €2,650)
(optional snow shoe walking available)


Jun, Jul & Aug 2013 and 2014
(8 days from £2,350 / €2,690)
(11 days from £3,650)


Aug, 2013 and 2014
(13 days from £3,499 / €4,190 )


July 2014
(10 days from £2,990 / €3,420)
options inc sea kayaking, snow shoe walking, trekking & diving


Arctic Diving and Natural History

12th - 19th Sept, 2014 from £2,390
(8 days from £2,390 / €2,699)


23 Aug- 04 Sept, 2013
(13 days from £3,699 / €4,200)
with Aqua-Firma Environmental Scientist & Professional Photographer Andy Davies


July 2014
(10 days from £2,990 / €3,420)
options inc sea kayaking, snow shoe walking, trekking & diving


1st - 10th July, 2014 from £3,020


Dog Sledding & Tailor Made Adventures

Sailing area from Norway's Lofoten Islands to the North Cape


( 4 days from £975)
Feb & Apr, 2014


( 5 days £2,490)
Mar - May, 2014


Dog Sledding, Trekking, Kayaking, Geology & Northern Lights



Spitsbergen with its rugged mountains, sweeping tundra, ice caps and glaciers, is a High Arctic archipelago only 600 miles from the North Pole. It is a true wilderness: difficult to reach and hostile to explore. Spitsbergen is amongst the most interesting and exciting of all Arctic destinations, and is home to around 2,000 Polar Bears as well as walruses, reindeer, Arctic fox and huge seabird colonies. In summer, long daylight hours and ice-free shores facilitate the exploration of the unspoilt natural beauty of this area. Guided by natural history experts, we use well ice strengthened motor ships, sailing vessels, RIBs (rigid inflatable boats) and your own two feet to navigate deep inside dramatic fjords and hike across spectacular tundra, dotted with an array of wild flowers, birds and wildlife.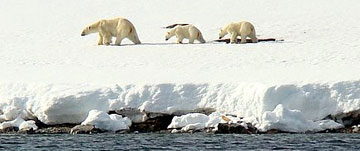 A voyage on the waters of the Arctic seas is not one you merely take to reach your destination, but one to savour in itself, giving time and space to remove urban cobwebs and revitalise the mind. From the outset the seascape is both rich and expansive, where one may marvel at the spectacle of dolphin acrobatics at the bow, view tail flukes on the horizon or witness polar bears floating by on the ice below.
The Arctic's vast and remote expanse, demands access and exploration by water. Your vessel is no longer a means of transport, but your base camp; sustaining and protecting you, whilst at the same time taking you deeper into one of the wildest and most hostile places on the planet. The Arctic instills a strong sense of detachment from the routine of modern commercial life.
Aqua-Firma provides the opportunity to explore this remote wilderness by your choice of small expedition Icebreaker or by sailing yacht. Vessels carry small groups of between 20 - 114 travellers, providing an intimate and stimulating atmosphere of like minded people. Each vessel however delivers a different experience: The motor ships are bold and powerful, hosting excellent viewing from the bridge, bow and decks throughout its length. One can watch in awe as the strongest vessels deftly move aside an ice mass equal in size to itself, whilst carving a path through the floes in its path. They also carry a full compliment of rigid inflatable boats to enable close examination of the coast. A sailing ship on the other hand, handsome and undoubtedly suited to the challenges of the Arctic, evokes a romance and an expeditionary sense of adventure which comes with moving as one with the nature rather than against it. It also benefits from a shallower draft than a larger motor ship.
All Arctic experiences are enriched by interaction through lectures and discussions with expert naturalists and historians onboard. Every opportunity is made to take zodiac landings to explore on foot the glaciers, icebergs and fjords of this frozen expanse, observe wildlife and visit historic sites.
For the experienced drysuit diver, the submarine ecosystems of the far north present a wild and undiscovered realm. This is a challenging and ever changing World of blue sculpted ice, Arctic marine wildlife and the chance to dive where few have dived before.


Our Commitment to the Climate
Aqua-Firma is committed to the conservation of the places it visits. This is why we have calculated the average CO2 emissions of our Arctic and Antarctic Voyages and will automatically offset each client's share of emissions via Rainforest4Climate - a programme we have developed in partnership with the charity Rainforest Concern. Aqua-Firma will also automatically offset the carbon emissions of flights booked through us for polar voyages.
Polar Travel with Aqua-Firma

An Arctic expedition is a major travel undertaking for most travellers, which is why we provide detailed information throughout the booking and preparation process. Aqua-Firma is an ATOL protected travel company and can assist in booking flights and accommodation before and after your voyage. We can also provide comprehensive information about transportation, accommodation and what to do in Oslo and Longyearbyen. With years of on location experience in the High Arctic, we are on hand to answer any questions you may have prior to departure and give you the assurance of 24 hour support whilst away.

When you pick up the phone or email Aqua-Firma, you will be able to speak directly with one of our polar experts or guides. Whether your interest is a particular location, a desire for a specific experience, or a specialist interest such as sailing, photography, sea kayaking or polar diving, we will be able to provide the information you are looking for at a price difficult to match.
Resources
Photo credits: Jan Belgers, Malcolm Blake, Chris Dobbs and Charlotte Caffrey
Zodiac - Responsible Travel - Arctic Ocean - polar oceans sea - BBC Frozen Planet - Goran Ehlme - wide angle lens cameras - expedition cruises - northern lights noorderlicht - spirit of adventure - enderby - plancius - vavilov - akademik ioffe - clipper - family travel - photography & Photographic holidays tours - adventure snowshoe sea kayak - canoe kayaking adventurer - trek hike trekking & hiking - diamond - narwhal - Canada - north west passage - Greenland - Iceland - Norway - Lofoten Islands - Oslo - Tromso - Bodo

For Northern Lights Click Here