Kruger National Park is the largest game reserve in South Africa covering some 19,485 km2 (7,523 square miles) and extends 360 kilometres (220 miles) from north to south and 65 kilometres (40 miles) from east to west. It contains the highest diversity of mammals of any protected area in Africa and its 147 species which include large numbers of white rhino, buffalo, lions, elephants, impala, Burchell's zebras, giraffes, hippos, blue wildebeest, spotted hyena and leopards. It also contains smaller numbers of black rhinos, African wild dogs, cheetahs and bushbuck.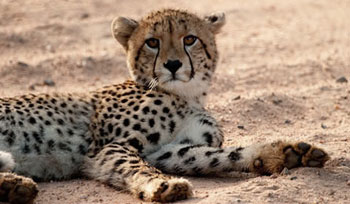 There has long been debate as to what to do about Kruger's burgeoning population of elephants. The current population is in the region of 11,500 whilst it's the park's capacity is reckoned to be 8,000. Culling and the legalised sale of ivory has been the most controversial concept tabled to manage populations. Contraception is another options which has been tried and abandoned. The current focus is more on encouraging elephants to cross borders into Mozambique's Great Limpopo National Park.
Of Kruger's birdlife, 517 species of bird have been recorded, of which 253 are residents. The park's 300 species of tree are at their greenest during the summer period November - May.
The south of the park is the most popular for visitors and it is here where game densities are highest. The ideal way to visit this area is in a private concession within the park, so that whilst game densities are high, visitor numbers can be very low. The centre of the park receives fewer visitors and has slightly less game, whilst the north such as the Parfuri area receives the fewest visitors but has the greatest sense of wilderness.
We offer tailor made safaris to all parts of the park at any time of the year, making use of some of the very best lodges. Where we can, we like to incorporate the opportunity for walking safaris and bush 'fly camping', in addition to safaris by 4WD vehicle.
For reaching the park, self drive is an excellent option and even if we base you at a private reserve where you make no use of a vehicle once there, it can often work out more cost effective this way. Flying in and out is definitely quickest saving a good 3 - 5 hours of driving.
For those travelling to Mozambique on our April Manta Ray Research & Conservation experience, trip leader Ralph Pannell will be leading a small group safari which will travel overland from Johannesburg through the park to explore a 10,000 hectare private concession within the Kruger. We will be based at a 5 star lodge with just 12 chalets, so the human population of this area is minimal. Whilst we will take every opportunity to take safari drives, the lodge is at a stunning riverside location with boardwalks from which to explore on foot the riverside gallery forest. Click on the Dates & Prices above this page text for details.
South Africa Safari and holidays - Kruger National Park - Sodwana Bay - Vamizi Island - Hluhluwe - Mkuzi - Johannesburg - Durban Natal Province - Stellenbosch & Cape Town - Great White Sharks - Titsikama - Botswana - Pemba Tanzania - Kenya & South Africa Airways - Mozambique Manta Ray Research & Conservation experience - Queen of the Mantas - Dive holidays - Diving & Safari vacations- Natal Sharks Board - Durban - Cape Town - Pietermaritzberg - Johannesburg - Tanzania - Kenya - Botswana - Namibia - Umkomaas - Aliwal Shoal - Protea Banks